We've done some digging and here are some interesting statistics about photography!
Please remember that because social media continues to grow and the world is constantly changes these statistics may have got even bigger!
The total number of photos uploaded to Facebook is believed to be over 250 billion (and growing daily)!
On average over 500,000,000 people are active on Instagram every day!
Around 18% of photos on Instagram are filtered.
Flickr has over 500 million public CC-licensed works!
9% of moms take pictures of their kids every day.
The first ever consumer camera was by Kodak and was called the 'Brownie'. It was introduced in the year 1900.
It's claimed that humans have now taken over 3.5 trillion photos in total.
In the UK it's said the average photographer earns a base salary of £25,183 per year
The word 'photography' is derived actually from the Greek φῶς (phos), which means "light", and also γραφή (graphê), which means "drawing, writing", put them together and the meaning is "drawing with light".
Last but not least. Probably the coolest of the them all. The oldest photo of a person dates to 1838. It is called 'Boulevard du Temple' and if you look at the street you can see a man having his shoes shined. And here is the oldest ever photo of a human being: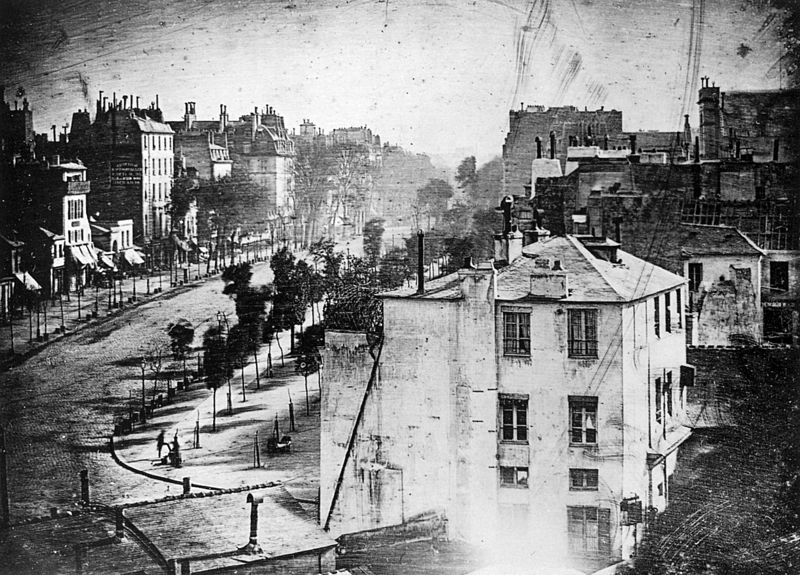 Sources used for these statistics:
https://medium.com/@stpe/statistics-how-filters-are-used-by-instagrams-most-successful-users-d44935f87fa9
https://blog.wishpond.com/post/115675435109/40-up-to-date-facebook-facts-and-stats
https://backlinko.com/instagram-users
https://blog.flickr.net/2019/03/08/update-on-creative-commons-licenses-and-in-memoriam-accounts/
https://uk.indeed.com/career/photographer/salaries