This app review is now many years old and the app design and functionality may have changed.
ToonPaint an app designed for creative artistic urges to implement effects on photos stored in your phone, or ones you take. As you can imagine, the one in the picture is one I took for the review, though me and that Coke can do share a special bond.
The application is available to buy now, in the UK it is £1.19 and in the USA it is $1.99. It also works on the iPod Touch.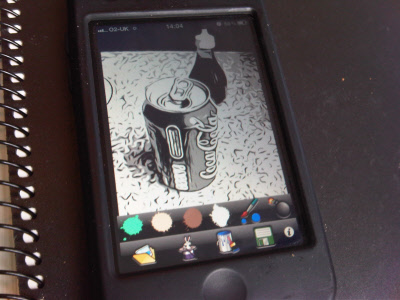 ToonPaint, creates a sketch of the picture, and then you can colour it in or draw on it. Either way, by moving your finger over parts of the image you want to colour will result in the image being coloured accordingly. Cleverly, you can also move the image around and zoom in, so finer detail can be applied.
ToonFx, have also provided options to make the creative process more interesting. There is a good color palette and a range of brush sizes, together with more advanced options such as adjusting the detail and coloring of edges, and background.
Navigation comes from four menus and on screen painting. The painting was fairly straight forward to get to grips with, once I worked out the best way to manipulate the image.
The beauty of ToonPaint is that it is easy to use without being too simple or complicated. As a doodling App it strikes the perfect balance. Microsoft Paint and Photoshop Pro it is not.
If doodling is your thing, then this could well be worth the asking price. I found it good fun, and would use it again to kill time.
It is also possible to upload your masterpiece to Facebook, so you can show it to your friends before getting your work commissioned in an art gallery.
Doing a bit of research it appears other reviewers seem to share similar positive thoughts which is cool to see. It really is a good bit of kit, if you're considering it hop over the Apple Store and pay the small fee for it.