The SEO industry is huge. I don't know if anyone has ever counted how many blogs there are on the topic but it is a massive amount.
On the one hand this is great because it means a wealth of information. And information is power right. However too much of it can be a bad thing. You can lose sight of the critical things that matter. And get so caught up on tiny things that you aren't looking after what matters.
Remember that between 80-90% of Google searchers focus on the organic results, and ignore paid listings, meaning high rankings can bring in good traffic if you target specific terms. Making it well worth doing.
Many people think SEO is dead, and some say it is a waste of time. Take a look at this from Google when I started typing "SEO is" into the UK version of the engine.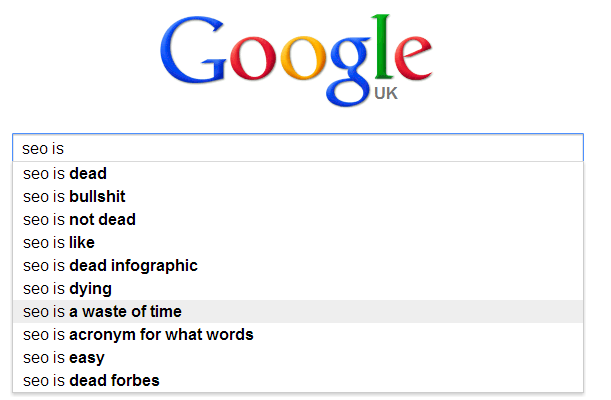 They're wrong. It's still worth being aware of, and certainly isn't dead. So let's crack on!
Why Strip Away The In-depth SEO Stuff
Because if you're a one man band you will be limited for time. Especially if you own more than 1 website, which many webmasters do. Time is money after all.
Filling your brain with too much crap is another reason. Knowing a few things really well is much better then knowing a little bit about everything. Overloading yourself is not clever.
Another thing to remember is that although position #1 gets the most clicks, positions #2, #3 and beyond still get lots of clicks for search terms. So you don't necessarily have to be obsessed with getting that coveted number 1 place, better off spending time improving content, releasing fresh stuff and doing a bit of niche promotion to get more rankings, rather then just one or two up the top. Wouldn't it be great to have 100 pages on the first page for popular terms, rather then simply 1 page listed at #1 for a single term.
Stick To The Critical Basics Of SEO
So what are they?
First off content is king, even in 2013 and will be beyond. I know you will have heard that a millions time but it still stands true. If you have lots of pages of thin content it isn't going to be popular with Google. So make sure you nail what is on your pages. Use a good mix of things such as videos, plain text, quotes, links to other sources, charts, infographics and even things like embedded games and forms. And of course, it should always be brilliant for your visitors. Look at your competitors and ask yourself "am I better then them?".
Next up is the web design. It has to be well laid out for visitors to use, and search engines to spider. Keep it simple, stick to standards rather then confusing people who land on your homepage or an internal page. Things like breadcrumbs and using sub-categories instead of just loads of categories can be a great way to help visitors get around. Don't forget the basics such as a sitemap listing all pages.
And finally getting a few highly targetted inbound links to your best pages. If your content is good this will happen naturally over time, and that should be your ultimate aim. But in the beginning when you are getting the word out there focus on quality, not quantity. You may see people selling directory submissions so you get thousands of links in a few days but long-term it won't work. Stick with guest posting and getting highly targetted links from niche forums and in niche blog comments. This will result in direct visitors, a variety of linking domains, different anchor texts and being associated as a good 'neighbourhood'. Build links steadily each month as it is easier to do, and helps build the site up naturally.
So just to quickly recap, the 3 critical basics are top quality content, simple web design and highly targetted quality inbounds.
All the other stuff is secondary and only after you have mastered the above should you be thinking about progressing further.
Just Starting Out
If you are fairly new to it all and want to get cracking to learn more about SEO then I highly recommend the SEOMOZ beginners guide which has 10 chapters and walk you through everything. It will take a while for it all to sink it, but for a newbie it is probably the best place to be. However remember the fundamental basics listed above.
Make an effort, put lots of hard work in. But unless you are a serious pro with a bit of spare time forget fiddling with little bits of code and messing with the odd phrase. Stick to the fundamentals and create something brilliant!