This app review is now many years old and the app design and functionality may have changed.
Last time out I reviewed ToonPaint. Now it's the turn of Hipstamatic, an intriguing photography app which aims to bring back the good old days of analogue picture taking. This may seem like an odd endeavor, but analogue pictures were less reliable than their digital successors, and often provided intriguing, unpredictable results. So how did Hipstamatic do?
This app is available for download in the UK (£1.19) and also in the USA ($1.99). It works on the iPod Touch and the iPhone.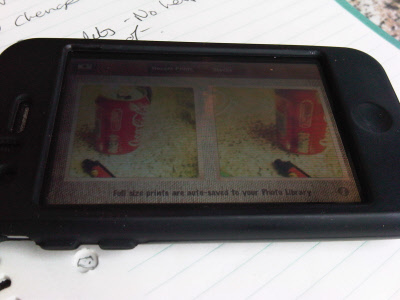 You get given a choice of three films, lenses, and flashes which provided different results depending on the combination used. To change an element of the camera, you simply slide your finger over it and slide it to one side. The next option then appears and takes its place. Once you have your three elements sorted out, it is time to take the picture.
The viewfinder of Hipstamatic is a small affair in the middle of the screen. You do feel like you are looking down a view finder when you line up your shot which can give rather mixed results. (See photo). This is all part of the appeal.
Navigation on the app was ok but not fantastic. I'm not sure but this may be deliberate, as old wet film cameras could be as well. It added to the feel of the app, which is a clever touch. One of the pleasing elements about this app is the different effects, different combinations of film, flash, and lens provided.
It's also possible to share the pictures you take on Facebook and Flickr, and other lenses, flashes, and film can be bought from the Hipstamart.
The graphics of the camera I found were sublime. They did not feel like graphics but an internal part of the phone. When I was changing elements, it felt like I was tinkering with something internal rather than just pressing a graphic on the screen.
Hipstamatic, also provides information on each lens, film, and flash so you get an idea on what effects will be created.
It's not difficult to imagine becoming immersed in Hipstamatic, as the app has a lot of features, and general intrigue about it. The creators Synthetic Infatuation, have created an app that is original, fascinating, and for the price, excellent value for money.